Make the most of it: Healthy Breakfast!
Giving your day an amazing start is crucial. Starting it right will help you end it on a great note as well. From the very first thing we do in the morning to moving forward to the day's breakfast it all counts. Including a healthy breakfast in your daily routine will help you go through the day. Adding essential foods like almonds, milk and other dairy products etc. will ensure a healthy you.
Adding "Badam" will not only help you keep your heart healthy but also provide you with the energy to keep going throughout the day. Almonds are a natural source of many essential nutrients, including protein and healthy fats, making them a nutrient-rich snack. We can substitute Badam as a mid-meal snack too. A handful of almonds may have satiating properties that promote feelings of fullness, which may keep hunger at bay. So here are some recipes to kick start your day:
INGREDIENTS:
Besan – 2cups
Baking powder – 1/4th tsp
Salt – ½ tsp
Ajwain – 1/4th tsp
Red chilly powder – ½ tsp
Oil – 3 tbl spn
PREPARATION:
Make a thick batter using besan, salt, ajwain, red chilly pwd, baking pwd and water. Keep aside. Mix together all the ingredients nicely for the stuffing.
Heat a nonstick pan and drizzle a little oil. Pour a little batter and spread around thinly. Allow to cook on one side and then gently turn it. Flash cook on this side and turn immediately.
Now spoon out the stuffing and place in the center horizontally. Fols the cheela like a dosa or a cigar.
Remove and serve hot.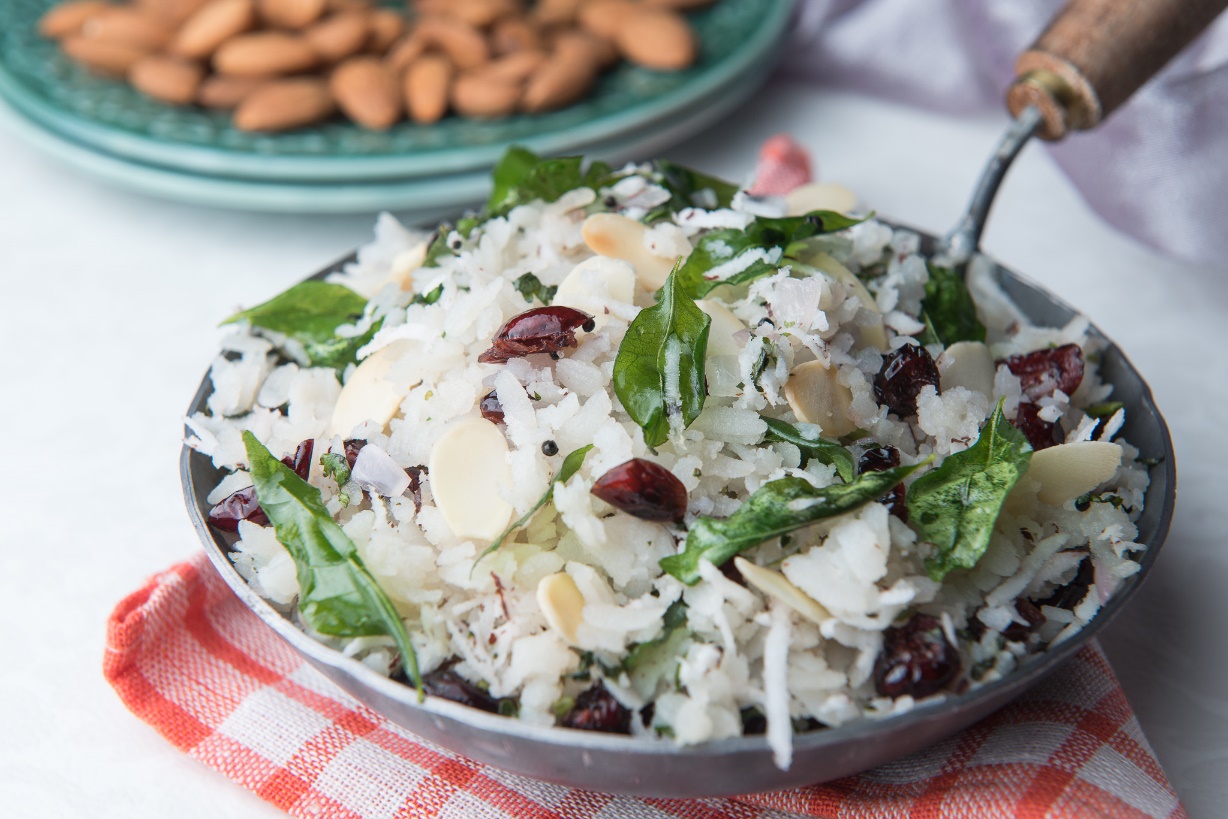 INGREDIENTS:
Almond Flakes – 200 g
Poha – 450 g
Onion – 200 g
Frozen/ dried cranberries – 100 g
Salt – 15 g
Oil – 20 ml
Curry leaves – 15 g
Green chilies – 5 g
Fresh coconut – 100 g
PREPARATION:
Soak poha in cold water, strain it and keep it aside. Soak 3/4th of almond flakes in water and toast the rest of them. In a pan take oil, add mustard seeds, curry leaves, chopped green chilies and sauté it. Then, add soaked poha and almonds in it and then add seasoning.
Add cranberries in it, then add chopped coriander and fresh grated coconut. Add the toasted almonds in the poha.Serve it hot with sprig of coriander as garnish.
So make the most of your first meal: BREAKFAST!